Mental health is the result of the complex interplay between genetic, psychological, environmental and other factors and experiences. The exposome concept, referring to the totality of exposures from conception onwards, is emerging as a very promising approach in studying the role of the environment in human disease. The EU-funded Equal-Life project will develop and utilise the exposome concept in an integrated study of the external exposome and its social aspects and of measurable internal physiological factors and link those to a child's development and life course mental health. This will be done using a novel approach combining exposure data to characterise, measure, model and understand influences at different developmental stages. The goal is to propose the best supportive environments for all children.
Equal-Life is part of the European Human Exposome Network comprised of nine projects selected from the same call. Through its Horizon 2020 Framework Programme for Research and Innovation, the European Union has helped to create a European Human Exposome Network.
The initiative represents a significant EU-endorsement to the relatively young field of exposome research, involving a total of 126 research groups from 24 countries and a working budget totalling 106 million euros. The common goal of the nine large-scale research projects of the European Human Exposome Network is to understand health impacts during lifelong environmental exposures.
Among them is Equal-Life, which will be coordinated by RIVM. RIVM also participates in the ATHLETE project, which focuses on the negative effects of different chemicals to cognitive development and its underlying mechanisms.
Latest news
Equal-Life project launched in Utrecht
A kick-off meeting in Utrecht, The Netherlands, saw the launch of the Equal-Life project, a large scale study into the effects of physical and social environments factors on mental health, which wi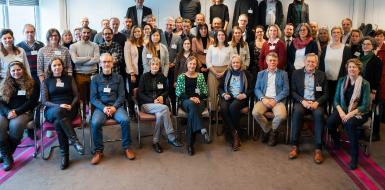 More news
financieringsblok
This project has received funding from the European Union's Horizon 2020 research and innovation programme under grant agreement No 874724.